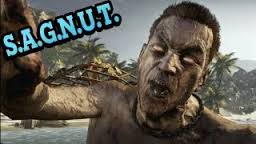 Dead Island, AC3 DLC and Halloween Amnesia Trailer is the sixth episode of S.A.G.N.U.T. It is three minutes and twenty seven seconds long.
Jovenshire talks about the new Dead Island Riptide announcement,
Sohinki breaks down details for new Assassins Creed 3 DLC, and Lasercorn explains Amnesia 2.
Reception:
Edit
The episode has 254,538 views and 3,026 likes.
Ad blocker interference detected!
Wikia is a free-to-use site that makes money from advertising. We have a modified experience for viewers using ad blockers

Wikia is not accessible if you've made further modifications. Remove the custom ad blocker rule(s) and the page will load as expected.