Dope Or Nope was a series where either Jovenshire, Sohinki or Lasercorn play a game based on first impressions and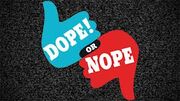 say whether it is Dope (Good), Meh (OK) or Nope (Bad). Only a handful of games have been Nope with the majority being Dope or Meh. The series airs with Backseat Gaming on a Tuesday. The first episode of the show was Dead Or Alive 5 First Impressions. It was canceled on December 24th, 2013.
Ad blocker interference detected!
Wikia is a free-to-use site that makes money from advertising. We have a modified experience for viewers using ad blockers

Wikia is not accessible if you've made further modifications. Remove the custom ad blocker rule(s) and the page will load as expected.