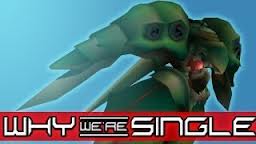 Epic Boss Battles Of Epicness is the fourteenth episode of Why Were Single. It is nine minutes and fourty three seconds long.
Lasercorn,Sohinki and Jovenshire talk about their favorite boss battles.
Lasercorn: Dr. Salvador (Resident Evil 5),End Boss (Zombies Ate My Neighbors), Emerald Weapon (FF5)
Sohinki:Minion (Twisted Metal),Psycho Mantis (Metal Gear Solid),Dr. Robotnik (Sonic)
Jovenshire: Chow-Kon (Mortal Kombat 9), Psycho Mantis (Metal Gear Solid), Sethroth (Kingdom Hearts)
Reception:
Edit
The episode has 475,524 views and 6,406 likes.
Ad blocker interference detected!
Wikia is a free-to-use site that makes money from advertising. We have a modified experience for viewers using ad blockers

Wikia is not accessible if you've made further modifications. Remove the custom ad blocker rule(s) and the page will load as expected.