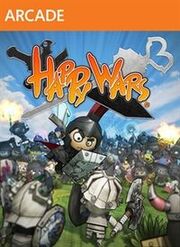 Happy Wars is a role playing game for the Xbox 360 featured on the Super Mari Fun Time episode Wrestling,Wars & Sharks!
Happy Wars is a multiplayer online game, defined as a role-playing strategy game, although it also has a short story-driven single player campaign mode.The multiplayer mode consists of two teams of up to 15 players attempting to destroy the other team's castle while also defending their own.
The players choose from one of three classes: the warrior, the mage, and the cleric, with each class having a base attack and other unique abilities that are available as the player gains new levels.[7] Each class also has a unique "Team Skill", where players can gather teammates together to allow the casting player to use more powerful skills. The more players that aid in the use of the team skill, the more powerful the ability becomes.
The game also has items that can be purchased either through playing the game or through microtransactions that allow in-game items to be purchased with Microsoft Points. There are items in Happy Wars that can only be purchased with Microsoft Points, but they are purely cosmetic items that do not affect gameplay. The developers have announced plans to release new maps and items "every 1-2 months".
As of November 2012, Happy Wars has a rating of 60 on both Metacritic and GameRankings. IGN cited lack of players as a concern with the game and that "Happy Wars went too far in the direction of accessibility with its few classes, lack of distinctive weaponry, and simple game modes."Official Xbox Magazine compared the game to Awesomenauts, but noted that players who pay for additional content appear to have an advantage over other players.
Jason Venter of GameSpot said that the game was "difficult to recommend because of the game's matchmaking and connection issues."A content update was released in November that attempted to fix the connection issues and other small game fixes.
Ad blocker interference detected!
Wikia is a free-to-use site that makes money from advertising. We have a modified experience for viewers using ad blockers

Wikia is not accessible if you've made further modifications. Remove the custom ad blocker rule(s) and the page will load as expected.