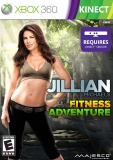 Jillian Michaels Fitness Adventure is a sports game for the Xbox 360. The episode was featured on the Smosh Game Bang episode Anthony Goes Shirtless With Jillian Michaels.
Get ready to use your entire body this time as players join Jillian Michaels on an interactive adventure, which of course is also filled with Jillian's trademark intensity! Using the Kinect motion sensor, Jillian Michaels' Fitness Adventure takes your fitness routine beyond a basic workout and turns it into a real adventure through a mission-based, thrill-seeking journey set in a lush jungle temple environment. The high-energy and fully customizable motion-based experience offers a results-oriented personal training experience that you can expect from teaming up with Jillian to achieve your fitness goals.
Ad blocker interference detected!
Wikia is a free-to-use site that makes money from advertising. We have a modified experience for viewers using ad blockers

Wikia is not accessible if you've made further modifications. Remove the custom ad blocker rule(s) and the page will load as expected.