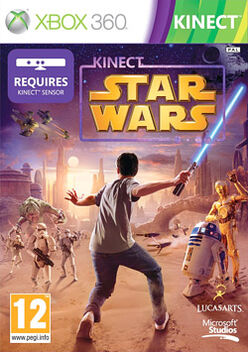 Kinect Star Wars is a Xbox 360 Kinect game featured in the Smosh Games episode 'Dancing With The Star Wars" It is rated T.
Gameplay:
Edit
The playable character in Star Wars Kinect is a master and one of several new characters who will be introduced by the game. Using the controller-free Kinect system, the player stands in front of the television and uses hands to lift and throw objects with the Force or wield alightsaber, uses body movement to control starfighters and podracers, or uses a voice component to make additional commands. It takes places during the prequel trilogy timeline of the Star Wars universe, beginning shortly after Star Wars Episode I: The Phantom Menace and concludes during the events of Star Wars Episode III: Revenge of the Sith. The game also includes settings from the original trilogy, such as the planetBespin featured in Star Wars Episode V: The Empire Strikes Back. The player will also fight Darth Vader in the game.
The game is broken into five sections, each with a complete campaign.
Jedi Destiny: Players assumes the roles of Jedi padawans trying to help stop the forces of the Dark Side.
Rancor Rampage: The player acts as a Rancor with gameplay focused on destroying the area.
Podracing: As a young, up and coming podracer, the player will take on various races.
Galactic Dance-off: Players can dance against Princess Leia and others enslaved by Jabba on Tatooine. Songs are modern, and remixed with Star Wars lyrics; for example, "Hollaback Girl" becomes "Hologram Girl," "Ridin' Solo" becomes "I'm Han Solo," etc. Other venues include Bespin, Coruscant and the Death Star, all of which allow the player to dance against other, equally iconic characters from the franchise. This mode has become an internet meme, and is cited in many reviews as being one of the highlights of the game. Opinion among fans of the franchise is split, with some calling it fun while others see it as more defamatory of the franchise.
Duels of Fate: A lightsaber central mode where the player squares off against various opponents, and eventually fights Darth Vader
Ad blocker interference detected!
Wikia is a free-to-use site that makes money from advertising. We have a modified experience for viewers using ad blockers

Wikia is not accessible if you've made further modifications. Remove the custom ad blocker rule(s) and the page will load as expected.