Looking Over Your Shoulder is the twenty-fifth episode of Why We're Single. It is seven minutes and fourty-five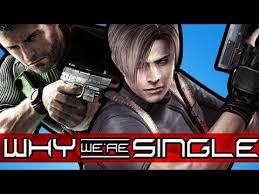 seconds long.
Lasercorn,Jovenshire,and Sohinki talk about their favorite first person shooters. Suprisingly Uncharted is not mentioned once.
Jovenshire:Resident Evil 4,Mass Effect 3,Splinter Cell
Sohinki:Syphon Filter,Max Payne,Dead Space
Lasercorn:Star Wars:Battlefront II,Gears Of War,Sniper Elite V2
Reception:
Edit
The episode has 287,866 views and 6,700 likes.
Ad blocker interference detected!
Wikia is a free-to-use site that makes money from advertising. We have a modified experience for viewers using ad blockers

Wikia is not accessible if you've made further modifications. Remove the custom ad blocker rule(s) and the page will load as expected.