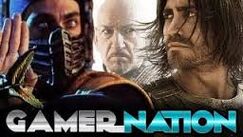 Make A Good Video Game Movie is the ninteenth episode of Gamer Nation. It is twelve minutes and thirty nine seconds long.
Jovenshire,Lasercorn,Sohinki and Erin Darling from ClevverMovies discuss video game based movies.
Jovenshire: Good:Mortal Kombat Bad:Street Fighter
Lasercorn: Good:Prince Of Persia Bad:Resident Evil
Erin Darling Good:Mortal Kombat Bad:Double Dragon
Sohinki Good:Mortal Kombat Bad:Doom
Reception:
Edit
The episode has 215,337 views and 5,234 likes.
Ad blocker interference detected!
Wikia is a free-to-use site that makes money from advertising. We have a modified experience for viewers using ad blockers

Wikia is not accessible if you've made further modifications. Remove the custom ad blocker rule(s) and the page will load as expected.