Raptor Claws is Lasercorn's signature dance.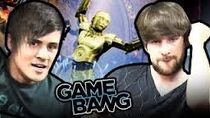 Appearences:
Edit
Kinect Star Wars Game Bang
The Hip Hop Experience Game Bang
Just Dance 4 Game Bang
PINEAPPLE B0NERKILL (Fruit Ninja Kinect Game Bang)
Just Dance 4 DLC Game Bang
The Michal Jackson Experience Game Bang
Avengers Workout (Game Bang)
WE GET SHAPED UP ! (Game Bang)
Dance Central 3 (Game Bang)
GREASE BANG (Game Bang)
Ad blocker interference detected!
Wikia is a free-to-use site that makes money from advertising. We have a modified experience for viewers using ad blockers

Wikia is not accessible if you've made further modifications. Remove the custom ad blocker rule(s) and the page will load as expected.