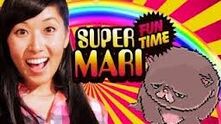 Techno Kitten Strikes With Colors is the sixth episode of Super Mari Fun Time. It is seven minutes and seven seconds long.
Mari plays the games Captian Foraxion,Scott Pilgrim Vs The World:The Game and Techno Kitten Adventure.
Captain Foraxion: 4\5
Scott Pilgrim Vs The World: The Game: 4\5
Techno Kitten Adventure:3\5
Reception:
Edit
The episode has 384,888 views and 5,458 likes.
Ad blocker interference detected!
Wikia is a free-to-use site that makes money from advertising. We have a modified experience for viewers using ad blockers

Wikia is not accessible if you've made further modifications. Remove the custom ad blocker rule(s) and the page will load as expected.