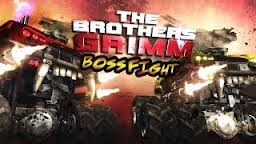 Twisted Metal- Brothers Grimm is the tenth episode of Boss Fight Of The Week. It is seven minutes and seventeen seconds long.
Sohinki and Lasercorn battle the bosses The Brothers Grimm.
Their strategies are
Hurt thier feelings
Someone set up us the bomb
Face Stomping
Reception:
Edit
The episode has 195,616 views and 2,844 likes.
Ad blocker interference detected!
Wikia is a free-to-use site that makes money from advertising. We have a modified experience for viewers using ad blockers

Wikia is not accessible if you've made further modifications. Remove the custom ad blocker rule(s) and the page will load as expected.