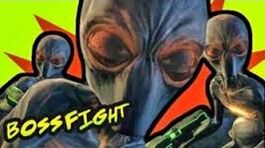 XCOM Enemy Unknown Alien Base Assualt is the third episode of Boss Fight Of The Week.
Lasercorn and Sohinki battle the Alien Base in XCOM:Enemy Unknown. Their strategies are
1.Zombify Your Favorite Soldier
2.Zombify Your Second Favorite Soldier (Not Sniper)
3.Snipers Shoot Things With Lasers
Reception:
Edit
The episode has 272,808 views and 2,638 likes.
Ad blocker interference detected!
Wikia is a free-to-use site that makes money from advertising. We have a modified experience for viewers using ad blockers

Wikia is not accessible if you've made further modifications. Remove the custom ad blocker rule(s) and the page will load as expected.